One of our many annual highlights is teaching a module on Social Media to Masters' students in the the University of Dundee's School of Business. 
Andrew designed, developed, and delivered this module for the first time in 2022 when it was all done remotely, this year we were delighted to be back on campus with over 50 students.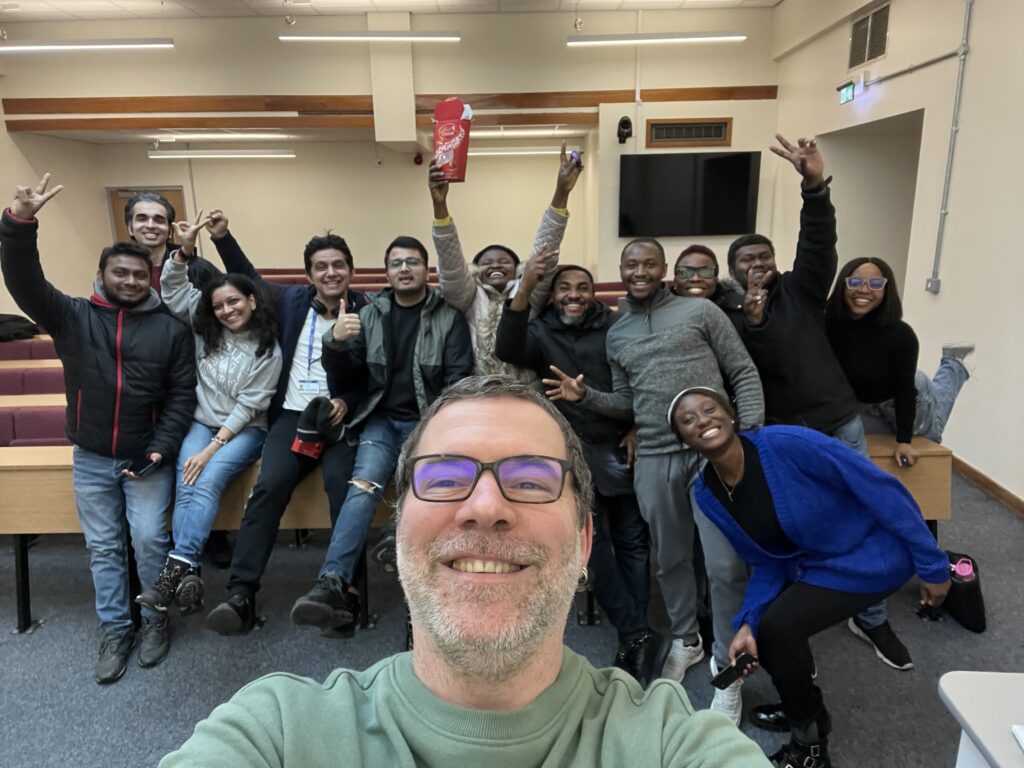 There are thousands of online courses available which cover the details of how to use specific social media platforms. A good few Universities offer academic modules on social media too. 
The module we designed is different, in it we give students our high-level thinking on social media, look at its evolution, what it is and is not good for. The students are given not only practical experience, but also the tools to evaluate what does and does not work. 
Over the course of the module students have to name a fictional, sustainable brand, secure social media accounts, and run them. The students are assessed on their group work, as well as individually. 
Each group has to use, at a minimum, Twitter, Instagram, and Facebook, many chose further relevant platforms to explore too. Students are not set specific tasks on each platform, but are assessed on their continued usage of the platforms throughout the module. Some are more marketing focussed, some more brand, some more conversational – they all gain experience.
We absolutely love working with the Masters' students in Dundee, and to acknowledge their hard work this blog post will showcase each of the groups' public-facing work. If you want to explore more, we have linked to the linktree links each group created.
WP with Pets
WP With Pets is a fictional sustainable recycled pet supply brand, this group fully realised, and embraced, the internet's love of pets – their main focus was on TikTok and they got a great number of views with only a small number of videos and followers. linktree
UK Project Bee
UK Project Bee are a fictional bee farming brand, this group cross posted and, as well as the required platforms created a website and a LinkedIn page – their best performing platform is Instagram. linktree
Silvabirdmash
Silvabirdmash is a fictional brand in the paper recycling industry, they added TikTok to the platforms which were mandated, and made good use of it too. linktree
Profashun
Profashun is a fictitional brand which creates clothing from recycled plastics, over and above the required platforms they created a website, a TikTok, and a LinkedIn page. linktree
NovusTote
NovusTote is a fictional brand which upcycles old clothes and fabrics into new totebags – they have consistency across all platforms and created a LinkedIn and website beyond the required platforms. linktree
KindlyMaise
KindlyMaise is a fictional cosmetics brand focussed on sustainability and inclusivity, beyond the required platforms they created a website and a Pinterest account. linktree
Green Nuage
Green Nuage is a fictional brand which produces fully compostable diapers (or nappies) beyond the required platforms they also created a TikTok profile. On twitter they were very social, interacting with other fictional brands from the module as well as real world brands. linktree
EcoAndSchmick
EcoAndSchmick is a fictional brand which creates denim from recycled plastic, beyond the required platforms they created a website, Pinterest, and were the only group to create YouTube. linktree
BlueGreenFab
BlueGreenFab is a fictional circular fashion brand which promotes reusing clothing, beyond the proscribed platforms they created a Pinterest profile, and made good use of Facebook. linktree
ALOVYphonecase
ALOVYphonecase is a fictional brand producing recyclable and compostable phoneeases, beyond the required platforms, this group created a Pinterest profile and a website. linktree
AJMAS
AJMAS is a fictional recycled clothing brand which focussed on Twitter – specifically on gaining followers. linktree
helleau® is proud to design, develop, and deliver Masters' modules for forward facing Universities whose students value practical and experiential learning.